Welcome To Swift County
MNGenWeb!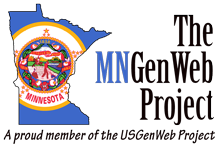 1895 Map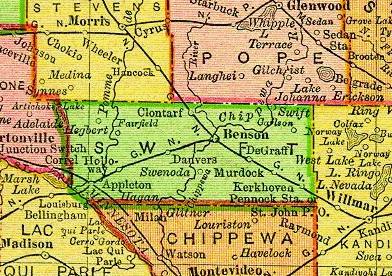 Go To:
---
Hello!
The Swift County MNGenWeb website is available for adoption.
If you are interested in becoming the Swift County coordinator, contact MNGenWeb Adoption
---
Swift County Lookups

Ann Minter used to do lookups. Due to health problems, she can no longer volunteer.
=====
The town of Clontarf has blog on its history.
History of Clontarf, Minnesota
=====
The experts for genealogy in any county would be a local genealogical or historical society.
Try sending a self addressed stamped envelope (SASE) and see what they can do for you.
Swift County Historical Society
2135 Minnesota Ave. #2 (Mailing)
West Highway 12 (Museum)
Benson, MN 56215
320-843-4467
Ex. Director: Marlys M. Gallagher
Write to the society for current membership info and again please include a SASE.
Email: SwiftMuseum@embarqmail.com
Website: Museum for Swift County Minnesota


Back to Top
---
Swift County Information
Swift County Courthouse
Benson, MN Chamber of Commerce
Minnesota County Historical Societies
Prairie Waters Community Pages
Swift County Place Names: Appleton, Benson, Clontarf(first called Randall), Danvers, De Graff, Hagen/Hagan (part of), Holloway(first called Norton), Kerkhoven, Murdock, Regal, Swift Falls
Swift County Ghost Towns: Carlson, Cashel, Fairfield, Hegbert, Swenoda
Swift County 1900 towns/post offices: Appleton, Benson, Carlson, Cashel, Clontarf, Danvers, De Graff, Fairfield, Hegbert, Kerkoven, Murdock, Swenoda, Swift Falls
Swift County Townships: Appleton, Benson, Camplake, Cashel, Clontarf, Dublin, Edison, Fairfield, Hayes, Hegbert, Kerkhoven, Kildare, Marysland, Moyer, Pillsbury, Shible, Six Mile Grove, Swenoda, Tara, Torning, West Bank
Newspapers
More Maps Click on Interactive Atlas and enter city/state

Back to Top
---
Some of the better genealogy sites on the net.

Back to Top
---
Surrounding Swift County, MN Links

Northwest: Stevens County, MN
Northeast: Pope County, MN
East: Kandiyohi County, MN
South: Chippewa County, MN
Southwest: Lac Qui Parle County, MN
West: Big Stone County, MN

All MN Counties

Back to Top
---
Related Genealogical and Historical Societies
---
Other Minnesota Links
---
USGenWeb and WorldGenWeb

Back to Top
---
In March and April, 1996, a group of genealogists organized the Kentucky Comprehensive Genealogy Database. The idea was to provide a single entry point for all counties in Kentucky, where collected databases would be stored. In addition, the databases would be indexed and cross-linked, so that even if an individual were found in more than one county, they could be located in the index.

At the same time, volunteers were found who were willing to coordinate the collection of databases and generally oversee the contents of the web page.

In June, as the Kentucky Project was coming to completion, it was decided to create this page for all states. Volunteers were found who were willing to coordinate the collection of county pages for each state page. If you would like to contribute your data or create a county page within Minnesota, please contact the MNGenWeb Project.

Back to Top
---
Acknowledgements
The purple arrows are from Kira's Icon Library.
---
Please specify "Swift County" in all correspondence, otherwise it might be deleted as spam mail.
This page launched Nov 23, 1997
Last update: 8 Mar 2019
Copyright© 1997 to 2019 for the MNGenWeb Project